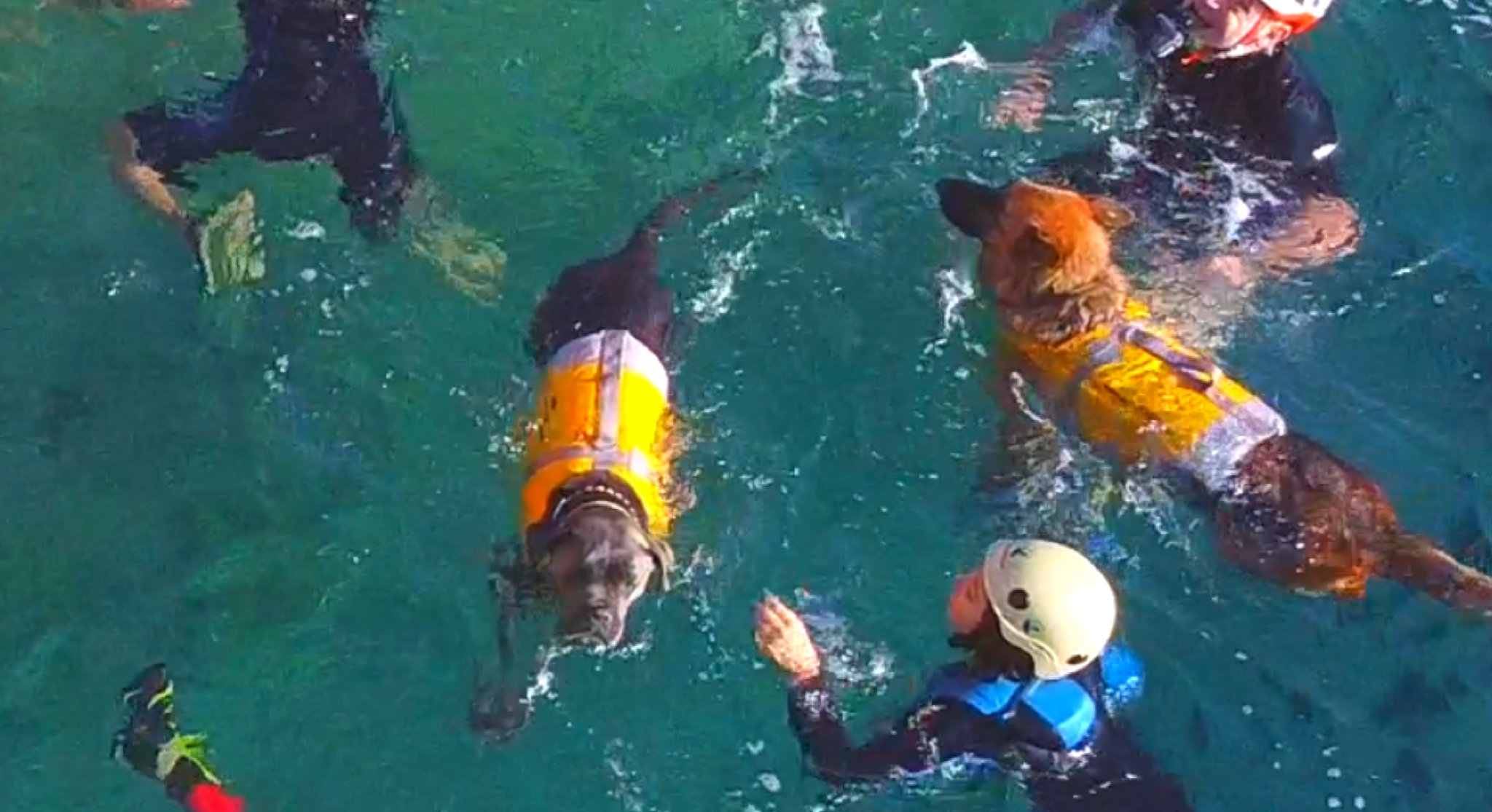 Tips and news
Coasteering with dogs
Adventure with dogs
Water activities with dogs
Would you like to do adventure activities with your dog? and do you love water? discover the activity Coasteering with dogs!!
Let's talk about an adventure activity along the coast with our dogs! an activity where there will be a coastal tour combining hiking, high jumps into the water, cave exploration, diving, traverse climbing, with our dogs! so let's start strong!
We interviewed Miquel from the ACEC association (Associació Catalana d'Excursionisme Caní), the only ones in all of Spain that practice and organize this adventure sport with dogs.
Don't miss the end of the article where we attach the interview and the full video doing coasteering!!
What is Coasteering with dogs?
Coasteering, also known as coasteering, is an adventure sport, in this case, an adventure sport with a dog that consists of taking a coastal route combining hiking, high jumps into the water, exploring caves, and alternating swimming, climbing and lower rocks from the coast, and in this case adapted to do this water activity with dogs. It is a sport very similar to canyoning.
Difference between canyoning and coasteering with dogs
Canyoning with dogs
Canyoning is an adventure sport that is practiced in mountain rivers following an itinerary through canyons along the course of the river, combining swimming and climbing to overcome natural obstacles.
Coasteering with dogs
As we mentioned before, it is also an adventure sport that consists of making an itinerary through water and rocks, in this case along the coast.
Miquel tells us that coasteering has more versatility than canyoning when it comes to adapting the route with dogs, since not all ravines are suitable for going with dogs and in their activities they are against rappelling with them (going down rope ). On the other hand, on the coast there are many more options to create a safe itinerary for dogs.
He tells us that the water of the mountain rivers is generally much colder than the water of the sea, so the activity is more pleasant and it does not have that limitation since, due to its geographical area, the vast majority of Catalonia's canyons are not suitable for doing with a dog, since you have to abseil or have very high jumps. The ravines are not as ideal as Coasteering, to practice it you have to go to the Pyrenees to do the activity or go to Guara with your dog, (Huesca area), to do ravines with the dogs, when Coasteering is currently done in Sant Feliu de Guixols, is approximately one hour from Barcelona.
Miquel also tells us about the greater versatility that Coastering has compared to canyoning, in the case of ravines the itinerary is what it is, and there is a certain number of jumps, it is difficult to go back to repeat it since it depends of the river itinerary, that does not happen in coasteering because it is the sea and you can easily go back and jump as many times as you want, in less time or in less time you can enjoy the adrenaline for more time.
Where to practice Coastering with a dog in Catalonia (Cataluña – Spain)?
Costa Brava with dogs
Miquel, who organizes this activity, explains to us that it is directed jointly with Girona Aventura, a fusion of knowledge and experience makes this activity possible, an initiative aimed at replacing and improving the canyoning activities with a dog that they do. The ACEC association provides the knowledge, help, support and prevention so that the activity becomes totally dog-first (dogs are the protagonists) and human friendly.
Adventure sport with a dog with great safety
It is an adventure activity and safety is considered at all times, he explains that the activity is directed by specialized professional guides, together with their advice and experience doing activities with dogs over 10 years, they have been able to adapt this activity from adventure also to do it with the dogs.
The breeding season for sea urchin is controlled since there are a large number in that area of ​​Girona and they can harm both the sea urchin and the paws of the dogs.
The places where you can pass are controlled, the jump areas that are not very high and there is always a descent for the dog in which it is not necessary to jump, it is the activity itself adapted to be able to do it 100% with dogs and human friendly In addition, the dogs will always wear a life jacket at all times.
Material for coasteering with a dog
The adventure guides provides the helmet and wetsuit for humans, it will only be necessary to bring a swimsuit and some booties from home or the ideal would be canyoning boots but some old sports shoes that can get wet would do.
The ACEC association provides a life jacket if the dog does not have one.
Duration of the coasteering activity with a dog
In general, the itinerary is a 2-hour route, but it depends on the group and what they entertain themselves jumping, swimming and resting during the itinerary. It starts first thing in the morning and lasts throughout the morning, basically until hunger strikes!!
Physical condition to coasteering with dogs
It is necessary for the person to know how to swim and to have a very good physical condition since they will have to be able to go up/down rocks and swim against the current for a long time in the sea and it is essential to have a minimum physical condition (there is no minimum or maximum age but good physical condition is essential). In addition, you will have to have strength to help your 4-legged buddy at specific times or in case you need it, with an extra kilo, due to the weight that the fur absorbs in the water. An example "if your dog weighs 50kg (110 pounds) you should be able to have the strength to help him, counting on a few extra kilos due to wet hair".
Aquatic Dogs
Miquel tells us that this activity is not for all dogs. It is essential that the dog has a very good physical condition and likes water very much, not only that he likes to get his legs and belly wet, but that he gets into the water and likes to swim. "The ideal dog is that if you walk on the beach in winter, it accidentally gets into the water!!"
FAQ Coasteering with a Dog
Miquel answers us about these questions!
Can I coaster if my dog ​​likes the water too much?
your dog is ideal for coasteering!
Can I coaster if my dog ​​likes the water too much?
Coasteering with your dog is not advisable. You can come without a dog without any problem but it is better that you come without your dog!
There are other water activities to do in summer with your dog that Acec does in its Acec Aquàtic section, such as water trekking, they are walks through rivers, where the water does not cover completely and they are ideal to start the dog being in the water .
Can I coasteering without a dog?
Yes you can!! As long as you like dogs, it's open to anyone!!
Can I coaster if my dog ​​is a puppy?
It is always to look for the state of the dog, it is not good to force them to swim, it can get boring with an activity, it can be too much to make a puppy swim for 2 hours, so this activity is not advisable for puppies.
Can I coasteering if my dog ​​is a senior?
That can be a lot of exercise for an older dog, even overexercise, so it's not recommended for older dogs either.
Can I coaster if my dog ​​is a very small dog?
You have to be especially careful with small dogs since they can get hypothermic, so you have to pay special attention and get to know the dog, with a dog over 15kg (33 pounds) there will never be any problem in that regard.
Can I coaster if my dog ​​is a very large dog?
Keep in mind that each person must be able to help their dog, if your dog weighs 70kg (154 lbs), that person must be aware that they must help him, along with an extra weight in which the dog's fur absorbs water and will weigh. You have to be aware of that.
Can I coaster if my dog ​​is a PPP dog ( breed dog cataloged potentially dangerous in Spain)?
As long as you really like water, as we said before, you are welcome!
Can I coaster if my dog ​​is a mildly handicapped dog?
Swimming is very good for them and the possibility of helping, guiding and without problem could be assessed. Each case would have to be assessed individually.
Is it compulsory to jump?
Both for dogs and humans it is not mandatory or necessary to jump, both due to fatigue or if you see that it is too high for you, it is not necessary.
Can I do coastering if my dog ​​is a dog with behavior problems, aggressiveness, reactivity…?
Miquel tells us that if the dog is physically in good shape and likes water a lot, everything else will be worked on as it goes, leaving more space for the dog and adapting to the dog's rhythm and circumstances.
Dog experience
He explains to us and we were able to live in the first person that it is definitely a unique experience to live with your dog, a precious experience to live with your dog, since you have a great time and being a different activity with your dog, creates a unique complicity and it unites you a lot with the dog, helps to overcome fears together, and definitely deserves to experience it once in a lifetime.
Upcoming coasteering activities with a dog in Costa Brava
In Groupet you can find out when the next activity will take place, through our activity search engine throughout Spain www.groupet.es or you can simply ask us at info@groupet.es or 623025139 if you are enough people interested, you can create a group !
Video Coasteering with Dog
If you have more questions and want to know all the details of coasteering, we encourage you to watch the full interview here
Video of the Activity Coasteering with dogs
If you have more questions and want to know all the details of coasteering, we encourage you to watch the full interview here
In short, it is ideal as:
Water activity with dog
Dog Adventure Activity
summer activity with dog
A dog experience
Activity with a dog in Catalonia
Dogs he loves in water
What to do with your dog on the weekend
What to do with your dog in summer
Find out what's new in leisure and fun with your dog at www.groupet.es