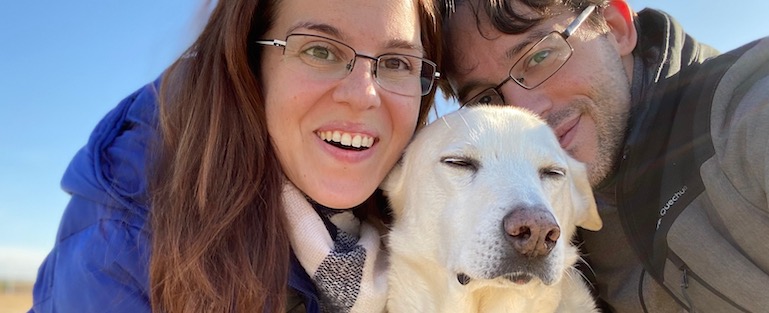 About us
About us
How did Groupet start?
Groupet was born with the mission to strengthen the bond of families with pets through memorable, unique and different experiences. Also, we want it to be quick and easy to find these experiences. At the same time, we want to eliminate limitations and enjoy our pets to the fullest.
Groupet arises from our own need. In 2017, we adopted our dog Baku. From the beginning, he became part of the family and we began to integrate him into our routines. We are active, traveling and adventurous people, and our intention was to live memorable stories, now with Baku. However, it didn't take long for us to discover the difficulty of organizing trips with a pet …
In August 2017 we planned to travel to Portugal, and we started with the preparations: means of transport, itinerary, accommodation, restaurants, tourist routes … it took us about three weeks to organize and a lot of searching on Google. It was a frustrating experience, and it was repeated on other trips we organized in France and some cities in Spain.
And we are not alone … We met many people in a similar situation. However, his solution was to leave his dog in a kennel and travel alone. By doing numbers, it turns out that the expense of leaving your dog in the nursery is equivalent to or higher than taking it with you! If only we could travel with the peace of mind of having the whole trip organized! We felt we needed to change that… And we got down to work.
We started the development of Groupet with a clear idea in mind: a unique platform where you can find activities and trips with pets, with offers suitable for all types of families. Of course, everything perfectly organized to enjoy.
Our values
At Groupet we love families with pets. Our goal is to strengthen that bond that unites us with them through unforgettable experiences. For us, our pets are companions, with whom to enjoy adventures.
At Groupet, we believe in a society where dogs are part of the family. They are not out of the family plans. Of course, we recognize that a society is necessary where dogs are educated and have civilized behavior.
We want happy families, it's that simple.
Our mission
Strengthen the bond of families with pets through memorable, unique and different experiences
Today there is a limited offer of dog sports activities, hiking and training classes. Our goal is to grow the offer of experiences (activities and trips), both in quantity and variety.
We strive to remove the obstacles that families face when we include our pet in our plans. In Groupet, you can find all the activities you can imagine: sports competitions, educational activities, adventures, medicinal or wellness, travel, and more … Everything at your fingertips using a powerful search engine.
Of course, we recognize that all families are different, and that is why we have taken special care to offer the best experiences according to your interests and the type of family you form. You can use the advanced search to find appropriate activities for you. For example:
Date
Number of dogs you have
The type of dog, its age and its size
The characteristics of your family (with / without children, etc)
The location where you want to carry out the activity (perhaps where you are enjoying a good vacation)
A dog properly socialized with the environment is the perfect travel companion, who will accompany you wherever you go without problems. For this reason, we also want to offer free material on dog training and behavior. You will find it in the Tips and news section, our YouTube channel or courses that we will be promoting on the platform. We recommend that you subscribe so you don't miss it!